The Salon Professional Academy is hiring!
Do you have a passion for the Beauty Industry and helping others feel better about themselves? Do you want to teach and guide future professionals? Then you're in the right place.
The Salon Professional Academy is hiring!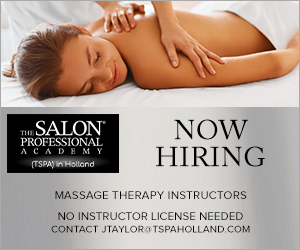 We are looking to add a Massage Therapist to our team.
Responsibilities include lesson planning, Student Salon Training Area teaching, following school policies and procedures, and educating the student(s) in preparation for the industry in both the theory and practical instruction.
Check out the link below for more information on how to apply, or contact our HR representative, Jordan Taylor at jtaylor@tspaholland.com.