Summer is here, and what better way to celebrate the season than by hosting an incredible summer bash? It's time to let loose, relax, and enjoy some much-deserved pampering. With a plethora of services to choose from, our summer bash promises to be an unforgettable experience for all attendees. Whether you're a fan of tinsel, braiding, mini facials, or chair massages, this event has something for everyone. Let's dive into the exciting details of each of these services and get ready to indulge!
Tinsel Magic:
Looking to add a touch of glitz and glamour to your summer look? Look no further than the enchanting tinsel service at our summer bash. Tinsel hair extensions offer a playful and eye-catching way to embrace the vibrant spirit of the season. With an array of colors and styles to choose from, you can get creative and find the perfect tinsel strands to match your unique personality. Let your hair dazzle in the sunlight as you dance the night away at our summer bash!
Braiding Extravaganza:
Summer is the ideal time to experiment with your hair, and our braiding station will be your one-stop-shop for all your hairstyling desires. From French braids to trendy Bubble braids, our talented Student hairstylists will work their magic to create stunning hairstyles that will make heads turn. Whether you want a casual boho-chic look let our braiding experts will help you achieve the perfect summer style.
Mini Facials for Radiant Skin:
Pampering your skin is a must, especially during the hot summer months. Our mini facial session is designed to rejuvenate and nourish your skin, leaving you with a radiant and refreshed glow. Our skilled aestheticians will cleanse, exfoliate, and moisturize your skin, providing a revitalizing experience that will leave you feeling rejuvenated. Say goodbye to dullness and hello to a luminous complexion at our summer bash!
Chair Massages: Unwinding Oasis:
After a long week, nothing beats a relaxing chair massage to melt away tension and stress. Our skilled massage therapists students will work their magic, easing your muscles and promoting a sense of deep relaxation. Whether you're looking to relieve built-up tension in your shoulders or simply unwind after a day of festivities, our chair massage station will be your sanctuary of tranquility at our summer bash.
Join us Thursday, July 13th at 5:45pm, for a great time! See our Instagram & eventbrite page to purchase tickets.
Melissa McCloskey Photography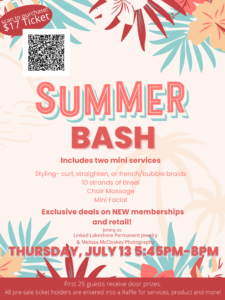 & Lakeshore Linked Permanent Jewelry will be joining us!