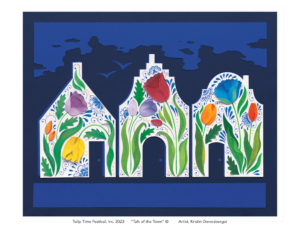 Holland, MI is known for its beautiful Tulip Time Festival, which usually takes place in early May each year. Here are some must-see attractions and activities during Tulip Time:
Windmill Island Gardens: This is a must-visit spot during Tulip Time, as it's home to a 251-year-old working Dutch windmill, which is one of only a few authentic Dutch windmills in the United States. The gardens are also filled with thousands of tulips, and visitors can enjoy Dutch dancing, music, and food.
Tulip Time Festival events: The Tulip Time Festival features a variety of events, including parades, Dutch dance performances, art exhibits, and more. Check the festival schedule to see what events are happening during your visit.
Holland State Park: This beautiful park features miles of sandy beaches, dunes, and stunning Lake Michigan views. During Tulip Time, the park is filled with tulips and is a great spot for a picnic or a scenic walk.
Downtown Holland: Stroll through downtown Holland during Tulip Time to see the tulips planted in the city's streets and parks. The downtown area is also filled with shops, restaurants, and cafes.
DeKlomp Wooden Shoe & Delft Factory: This family-owned business has been making wooden shoes by hand for over 100 years. Visitors can watch the clog-making process, shop for souvenirs, and even try on a pair of wooden shoes.
Veldheer Tulip Gardens: This family-owned tulip farm is home to over 5 million tulips in dozens of varieties. Visitors can take a guided tour of the gardens, shop for bulbs and other souvenirs, and even see a windmill that was imported from the Netherlands.
Dutch Village: This replica of a 19th-century Dutch village offers a glimpse into Dutch culture and history. Visitors can watch Dutch dancers and craftsmen at work, ride a carousel, and try traditional Dutch treats like stroopwafels.
Overall, there are plenty of things to see and do in Holland, MI during Tulip Time, from admiring the stunning tulip displays to experiencing Dutch culture firsthand.