Attention Licensed Stylists and Estheticians and Graduates!
The Global Stylist Scholarship committee is seeking donations
to help those in developing countries begin a career in haircutting.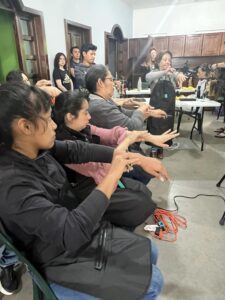 What is the Global Stylist Scholarship?
"Global Stylist Scholarship was founded from a deep love of the cosmetology industry and the desire to share this beautiful industry to empower men & women in developing countries with education, tools, and resources to begin a career in the skill of haircutting."
Due to the growing demand for this program, the founder has now scheduled for 2 visits per year. In February they will be going with a group of stylists from all over the United States and Canada to give advanced training to those who have been in a class before to help sharpen their skills and continue adding more services to what they offer. Later in 2024, they will be going again and only accepting students into the program who have never been through it before.
This year, we are asking all licensed Cosmetologists and Estheticians and Graduates to please donate any items listed below that you may no longer be using and is in good working condition. We will have a drop box in the lobby to donate your items.  If you have other items not listed, please don't hesitate to reach out to admissions@tspaholland.com to see if that is an item that is needed.
Items needed for February 2024:
Combs
Clips
Capes
Aprons
Brushes
Clippers
Trimmer
Shears
Tripod stands
Click here to learn more about The Global Stylist Scholarship and see what they have been up to.