It seems like ever since Groundhog's Day, we have all been patiently (…more like impatiently) awaiting Spring's arrival. Now that days are getting longer, there is less and less snow, and the days are continuing to get warmer, that means it's time to start pampering ourselves in the anticipation of summer!
For the month of April, we have so many great deals for you to take advantage of all month long.
Our Spring Classic Facial with a hot stone add on is available this month for $35. Not only do you get to enjoy the relaxing and rejuvenating benefits of a facial, but the added hot stone too!
If you're looking to pamper your hair as well, have no fear; we have a great deal for that also! Book a Haircut with an ABC treatment for only $24.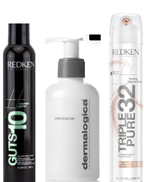 While you're already here…
You should take advantage of our product special for April as well. All Redken Guts and Triple Pure are on sale for $15 each. And when you buy one of those qualifying products, you can also save 15% off any other product purchase made that day as well.
For those of you wanting to add to your skin care regimen, I would recommend picking up Dermalogica's Pre Cleanse on sale this month for $36. This amazing cleanser breaks down oils and make up, giving you a clean palette to apply your facial cleanser.
Book your appointment or stop in today to see how our students can help you look and feel your best!
All services are performed by students under the supervision of a licensed instructor.