Attention, everyone!
We've got BOGO deals going on here at TSPA Holland and you are not going to want to miss it. This month only, you can get
Buy One Get One 50% off services
Buy One Get One 25% off products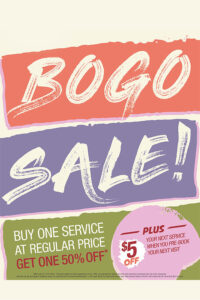 That means you could get a haircut with a half-off treatment, or a color and a half-off haircut. Maybe a facial and a half-off brow wax. Then, on your way out, grab a shampoo with a 25% off your new scrunchies. The possibilities are endless!
Start thinking off what you want to get done and give us a call! 616-377-7400
You can also book online here.
See you soon!
---
*cannot be combined with other offers or promotions
* must be used same day by same person
*All services are performed by students under the supervision of a licensed instructor.